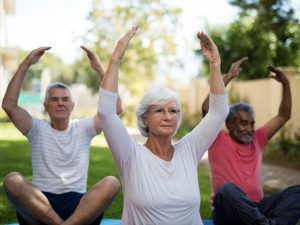 Senior activities are an important way for elderly citizens to stay social and keep their minds and bodies strong as they grow older.
Many studies have suggested that maintaining social connections with others, continuing to learn and participating in engaging hobbies can help keep a senior's brain active and sharp. In fact, participating in activities and spending time with others is vital to comfortable independent senior living.
There are a wide variety of senior activities that are fun, affordable and incredibly beneficial to a senior's overall well-being. It's a good idea for seniors to explore these options and find a pastime activity that helps them find enjoyment in their free time and improves their quality of life. During their retirement, seniors can fill their free time with fun and engaging activities. Here are some of the best activities and hobbies that seniors can try today.
Tip 1. Take Classes or Lessons for a New Skill
If you have ever wondered, "What classes are offered at the senior's center near me," now is the time to find out! Typically, senior centers will provide a variety of different group classes for elderly individuals to meet other people who share a similar interest and can participate in activities together. Each facility is different, but some common classes offered by senior centers include:
Dance lessons.

Educational programs and lectures.

Cooking classes.

Craft making lessons.
Tip 2. Start or Join a Book Club
Reading is a great activity for seniors and elders who have been avid readers throughout their life are encouraged to share their hobby by starting or joining a book club. Book clubs offer senior citizens an excellent opportunity to share their opinions with others and socialize while enjoying different books. Many senior centers offer book clubs to help support seniors stay mentally sharp and alert while offering them a chance to socialize with their peers.
Nowadays, there are a number of different options and methods that older adults can use to read books such as reading physical books, e-books, magazines or listening to audiobooks. This helps make reading an accessible senior activity, even for those with vision impairments.
Tip 3. Find Group Exercise Classes and Get Moving
As you get older, it can be more and more difficult to stay active, which makes group exercise classes incredibly valuable as activities for seniors. There is a broad range of different exercise classes available for elders to work out together in a group. Classes like yoga, Pilates and Tai Chi can be an effective way for seniors to work on improving their flexibility, balance and physical health.
Many elderly people living in affordable senior housing will be able to join group exercise classes with others in their housing complex. Seniors in these classes can socialize with other elderly individuals in their communities while participating in standard exercise classes, chair exercise classes, water aerobics programs and more.
Tip 4. Have a Senior Game Night
Bingo and jigsaw puzzles are traditional games and activities for seniors, but nowadays there are more fun game options available. While card games and bingo are still popular in senior centers, there has been a surge in popularity for trivia games, memory games and jigsaw puzzles. Find some friends, a game you all like and enjoy a senior game night! Some of the most popular games for seniors include:
Jigsaw puzzles.

Word searches and crossword puzzles.

Chess and checkers.

Dominoes.

Sudoko puzzles.

Card-matching memory games.
Tip 5. Capture and Share Your Life Story
One meaningful senior citizen activities is for elderly individuals to capture and share memories from their life. Scrapbooking is an effective way for seniors to commit these lifetime memories to paper so that they can be shared with friends and family members. These life story exercises are great activities for seniors because they allow for a chance to reflect on a long life while preserving a personal slice of history.
Creating a scrapbook is a personal experience, so you ask for someone for help as an opportunity to socialize and connect with a close friend or family. In order to create a beautiful and memorable scrapbook, you will need:
A large notepad or template for a scrapbook.

Lots of pictures of your favorite memories.

Glue sticks, tape, scissors and other crafting materials.

Markers, colored pencils, pens and other materials you can use to decorate.
Tip 6. Spend Time Gardening Outdoors
Gardening is a pleasurable and fulfilling senior activity for an active lifestyle. If the weather is good, spending time outdoor can drastically improve a person's mood, especially for seniors who are often indoors. Taking the time to dig in the dirt, plant seeds and remove weeds can be an effective way for seniors to unwind while still remaining active. After some time, gardeners can enjoy the fruits of their labors with fresh fruit and vegetables and beautiful flowers.
Tip 7. Create Arts and Crafts
Getting crafty and making art is a favorite amongst popular activities for seniors because it is accessible to most individuals despite physical limitations. Retirement can be a good opportunity for seniors to work on more creative projects in their free time. Art classes offer seniors the chance to paint with watercolors and acrylics, draw and sketch and even make crafts like jewelry or pottery.
Crafts such as pottery or ceramics are very common in senior centers because they can help seniors socialize and work to create a beautiful and rewarding finished product. Some research has even shown that making ceramics is useful for combating symptoms of depression.
Ceramics are also popular because it offers a stimulating experience that gives seniors the opportunity to create something using their hands. Many of these classes can be a great chance for people with vision impairments to work on their creativity.
Tip 8. Participate in Charitable Work
Even older adults can still perform charitable work in their community as a beneficial activity for seniors. If you are interested, you can reach out to a local charity, hospital or religious organization to see if there are any projects available for seniors. Some common charitable activities include knitting blankets or clothes, assembling care packages and more.